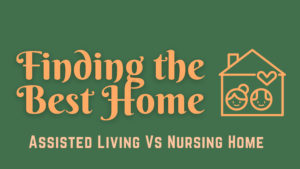 When it comes to finding a new home for our elderly, it can be hard to know what you need. There are many questions regarding the difference between an assisted living facility and a nursing home (also known as a skilled nursing facility). There are various levels of care that a loved one may require as they are getting older and it would be difficult for them to be in a situation where they get less care than they need. We also want to help you make sure that you are not paying for amenities that they don't need.
What is The Wildflower?
The Wildflower of Rigby is an assisted living facility. That means that we provide healthy home-cooked meals (we do offer therapeutic diets if needed), take care of laundry, provide activities, and assist in daily activities such as dressing and bathing. We ensure that medicine is administered on time and in the correct dosage. We have a facility nurse on call 24/7 who comes in twice a day to administer any injections or provide other medical care. All residents are supervised 24/7 by our other caregivers.
Many assisted living facilities also offer a memory care unit, and we do too! We maintain a separate building, known as The Bluebell, that serves as a secure memory care unit. Both The Bluebell and our assisted living building, The Lupine, are equipped for those who are needing long-term care.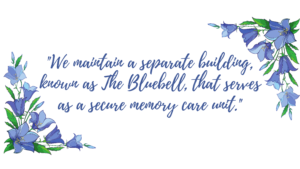 Why is The Wildflower not a nursing home?
Nursing homes are different from assisted living facilities mostly in the level of care they offer. Residents of nursing homes often need more intense medical care due to mental or physical struggles that leave them unable to live on their own. Our caregivers are not licensed nurses and so are not able to provide this kind of medical care. Nursing homes also require a physician's prescription before admitting a new resident. While we go through a process to assess resident needs, we don't need a physician's prescription to admit residents. Residents of nursing homes can either be long-term or temporary residents. Temporary residents are often there for medical help after events such as strokes, before moving on to an assisted living facility. All of our residents are long-term residents who are making The Wildflower their new home.
What is the environment of The Wildflower compared to a nursing home?
Many assisted living facilities, including The Wildflower, are created to feel like a new home for the residents. They have a more laid back atmosphere and allow more privacy for the resident. A nursing home tends to be more formal and usually has residents sharing a room. Assisted living facilities also usually are more private and care for fewer residents, The Wildflower currently only provides care for 24 residents.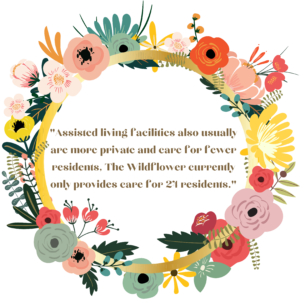 What is the best place for me?
The main deciding factor for where you should place your loved one is how much care they need. Another factor to look at is the price. For assisted living, prices vary from $3000-$4000 monthly where nursing homes can be $7000-$8000. Another option you may consider is at-home care, which The Wildflower can accommodate. This type of care is when a nurse comes into the resident's home to provide the care they need.
While it may be a difficult decision to make, finding a new home for your loved one should always be based on ensuring they have the proper care! We always welcome you to come into The Wildflower to Experience the Difference!
Resources
https://www.aplaceformom.com/planning-and-advice/articles/assisted-living-vs-nursing-homes
https://www.arborcompany.com/blog/the-facts-assisted-living-vs-nursing-home-care
https://www.healthline.com/health/assisted-living-vs-nursing-home#differences