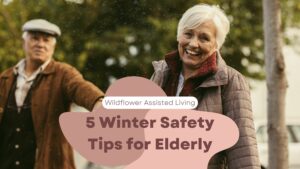 With winter coming, our elderly need a little more TLC! Winter can be hard on aging bodies and minds, but there are things you can do to prepare your home and lifestyle for winter issues. Winter also comes with some safety issues that the elderly should be aware of. Before the snow sticks, take a minute to review the following 5 winter safety tips!
It's slippery when the ice solidifies and as we age our bodies are more susceptible to falls. A few things you can do are: make sure to double-check walkways before stepping out, wear non-skid soled shoes, and if you have a walker or cane either replace the sole or consider an ice-pick-like attachment for the bottoms.
Sometimes when it gets really cold we get tempted to turn on all the heaters and get that heated blanket out and pile on the sweaters. And while it keeps us warm, these things can cause hazards. When it comes to space heaters, get an automatic timed heater so that if you do fall asleep it will turn off so you don't overheat. As far as heated blankets go, make sure the fabric is thick and won't cause irritated skin or thermal burns from being on too long, or you can get an automated heated blanket as well. For both of these items, you also want to make sure that cords are kept clear from walkways and that they aren't near anything flammable.
Winter often dries everyone out, but as we age our skin becomes even more susceptible to drying out and cracking. Drink plenty of water and electrolytes as that will also help prevent heat exhaustion. You will also want to invest in some good skin repair lotion. There are lotions you can apply to the skin after showering or bathing that are worth investing in for those with very sensitive dry skin.
There are various medical issues that can cause new issues in the winter. Thyroid problems can cause issues with body temperature, diabetes can cause issues with blood flow, and Parkinson's or arthritis can make it hard to layer up. If you are struggling with these or more medical issues that cause heating issues, visit your doctor before it gets too cold and snowy!
Lastly, don't forget to winterize your car! Double-check your antifreeze, make sure your tires aren't bald, and change your windshield wipers if needed! If you are using your own car, don't forget to stock up your car on supplies like a first aid kit, a blanket, a windshield scraper, jumper cables, a flashlight, some water, and some dried food.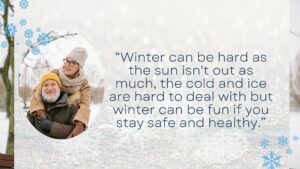 If you haven't yet prepped for winter, this is your sign to take the time and do it now! Winter can be hard as the sun isn't out as much, the cold and ice are hard to deal with but winter can be fun if you stay safe and healthy. If you are looking for something to do in winter, try visiting our blog on hobbies for ideas to try!
Check out our socials!
References
https://www.healthinaging.org/tools-and-tips/tip-sheet-winter-safety-older-adults
https://www.nia.nih.gov/health/cold-weather-safety-older-adults