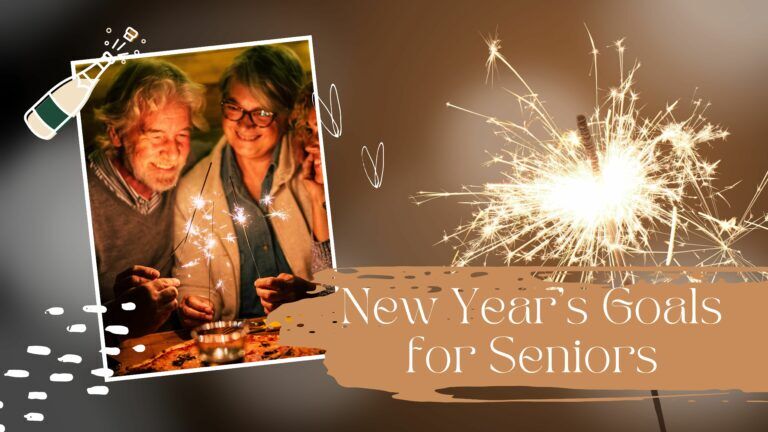 It's hard for everyone to commit to changing their lifestyle and making new habits. A new year is a great time to make new goals but it's hard to sustain as the year continues. The best practice is to make SMART goals that are specific, measurable, achievable, relevant, and time-bound goals. It's also important that the goal isn't something that feels like a punishment. For example, it shouldn't be "I want to lose weight so I'm going to cut off all sugar". If you want to lose weight a better goal is, "I want to lose 'x' amount of pounds by 'this specific date' and I'm going to do it by tracking my daily calories and keeping within 'x' amount of calories." These goals are more manageable and can apply to a variety of desired changes and new habits.
Elderly folks often have a harder time with new goals. One of the hardest struggles of new goals for the elderly is accountability. They need someone to help them plan goals and ensure that their desired steps are taken regularly. There are various apps that can be set up to alert them to daily and weekly reminders to help with their goals. It also helps if you're able to be their accountability buddy to remind them of their goals and keep them on track.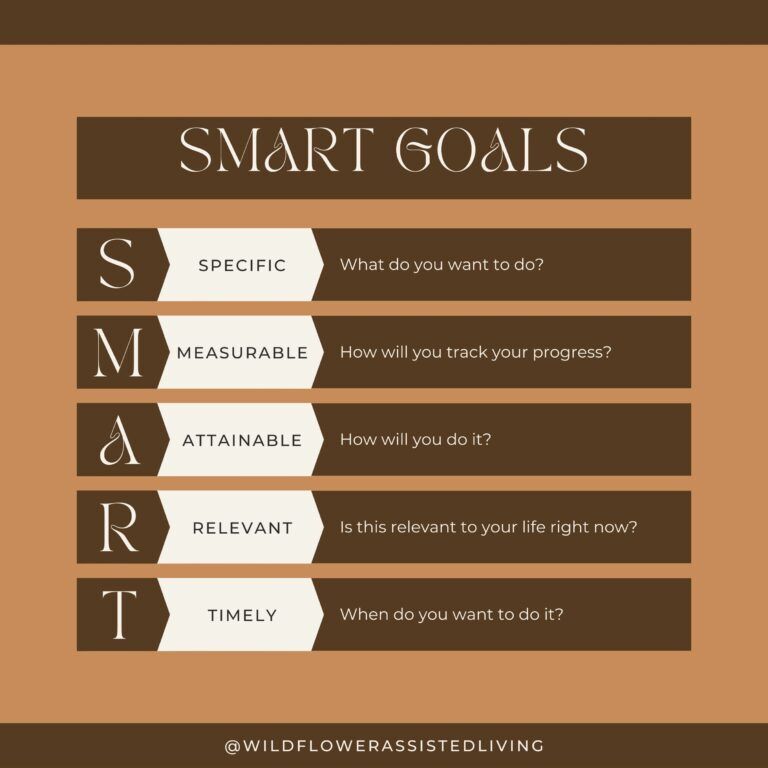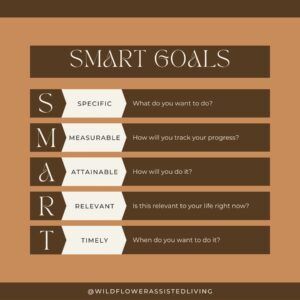 If you or a loved one are struggling with what kind of goal you want to set there are a variety of different goals that are great options for the elderly. A couple of possible goals are to make better dietary choices, be more active, spend more time with family, work out your brain more, or even volunteer more. Better dietary options could be focusing on more nutrient-dense foods or eating more fruits and veggies. Being more active could be joining a gym or taking up a walking group. Spending time with family would be making more time for grandkids or having lunch with your children. Working out your brain could be taking a new class online or learning a new skill. And volunteer work is all around you at your local library or pet shelter or even a senior center. These are a lot of different ideas for possible things and goals you want to accomplish this year. You can take these ideas and make them match what you want to accomplish with your own personalized SMART goal.
It's easy to get distracted as the year continues so here are 5 tips to help you keep your goals.
Write down your goals: According to a study by Dr. Gail Matthews of the Dominican University of California people who write their goals have a better chance of accomplishing more.
Keep your goals visible: With your goals written down, put them somewhere you see them every day, like on the fridge.
Identify possible obstacles: Depending on the goal obstacles can be different and it's best to note them and make a plan for how to overcome them.
Break it down: Each goal, especially long-term goals, should be broken down into milestones to help keep you motivated.
Remember the bigger picture: Your goal should be driven by what you are hoping to accomplish. Remember the future you are trying to attain with this goal.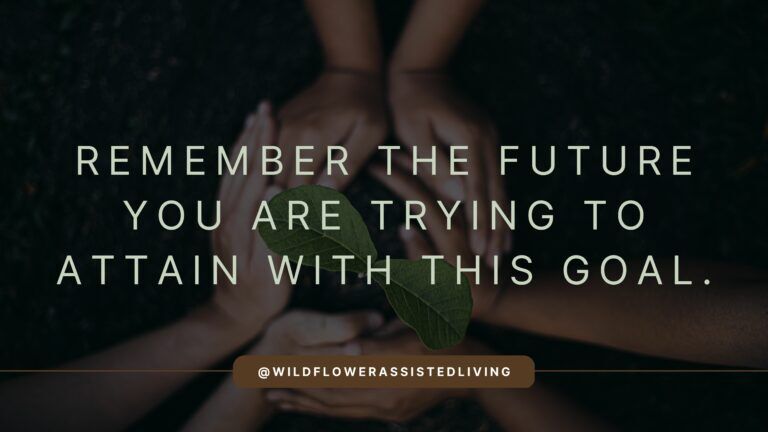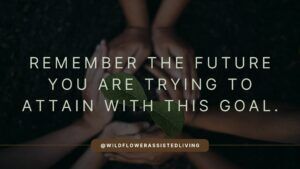 Making new goals is a worthy thing to do. It's hard to change a lifestyle and make new habits. Make sure your goal is something that is realistic for your health. Remember that you will go through surges and slips and will struggle to find all the motivation you need every day. This is normal, but you can do this as you keep trying to reach your goal!
Check out our socials!
Resources
https://www.betterup.com/blog/how-to-set-goals-and-achieve-them
https://chartwell.com/en/blog/2019/01/8-healthy-new-year%E2%80%99s-resolutions-for-older-adults
https://www.healthinaging.org/tools-and-tips/tip-sheet-top-10-healthy-new-years-resolutions-older-adults