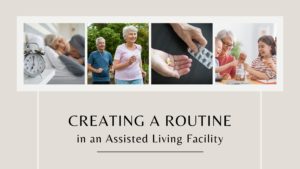 When we first move into an assisted living facility, it is intimidating and can be disorienting. We lose some of our regular routines and we don't have access to all the things we used to. It's important to work with your care provider to create a routine and the loved ones helping you adjust to the new facility to create a routine that works for you. We want to ensure that all residents feel comfortable and at ease with their surroundings. Today we're going to cover some of the steps to create a routine, what should be in your routine, and the benefits of having a routine in an assisted living facility.
Let's begin with 5 basic steps to creating a routine:
Define Your Goals: When you create a routine, it should be with the goal to create or maintain a specific beneficial habit. If we create a routine with the idea that we're removing a behavior but we have nothing to replace that behavior with, the routine won't stick. Your goals shouldn't be grandiose, but simple things that can easily be accomplished.
Clearly Define Needs and Wants: Needs and wants are different. When we create a new routine there are going to be some things that we need to do, regardless of whether we want to or not. We need to set time apart to eat, clean, and care for other more mundane tasks. Where it can get harder to remember to do this without a routine as we age, it's important we include these things in our routine.
Layout a Plan: This is not only how and where things need to be done but how long you want to do this. Is there a timeline for when the routine will need to be modified or completed? You also want to clarify the time of when things will need to happen in the day if there is a specific time things have to happen, like medications.
Make Preparation Easy: Take the day before you begin to lay things out and adjust alarms or reminders as needed. This is also the time to make sure you have everything you need to start your new routine.
Reward Your Progress: It's important to track your progress so that you can reward yourself! Sometimes rewards are treats or breaks or cheat days. Whatever your routine is, create a reward for sticking to it and making a change in your life!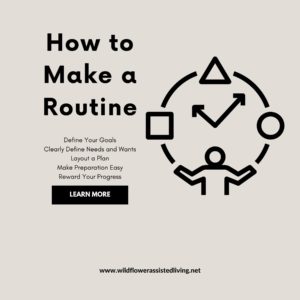 Now that we've got some clearly defined steps to creating a routine, we're going to address what some routines can be for and what they can include. Routines can be simple as daily routines that get us out of bed in the morning and help us through our day. Or they can be for a specific part of work, like a routine meeting. Or they can be for preparing to go out or have people over. Various things can be included in routines, like time to wake up, walk the dog, feed the cat, shower, feed ourselves, go to work, etc. When we talk specifically about a daily routine for the elderly in a rest home, there are a few things that you may want to ensure are included on a daily basis. Work with your caregiver and understand your own needs, but overall, it's important to set clear times for waking up, eating, and showering. It's also a good idea to schedule a time to write or call loved ones, if not on the daily basis, at least on a weekly basis. Lastly, you'll also want to make sure that you schedule a daily time to be active, whether inside or outside, activity for at least 30 minutes is important for mental and physical health.
Routines are beneficial for the elderly as it lowers stress and anxiety, improves sleep, and encourages more time with friends and loved ones. Routines can greatly increase feelings of security for the elderly as well. The benefits of a clear routine are not only felt by the elderly who have them, but by those who help them. A clear routine greatly helps their caregiver, as it reduces confusion, disagreements, and unnecessary repetitive decision-making. This is also why it's especially important to include the elderly in the decisions regarding their routines. They need to be respected in decisions regarding their lives so there isn't a power struggle.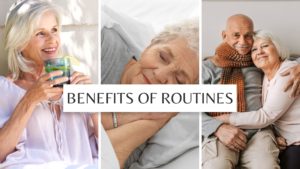 There is beauty in a clear and concise routine that is easy for seniors and caregivers to follow. It may seem strange to sit down with a caregiver and clearly map out you or your loved one's day, but it can be so beneficial and take some of the concern out of moving to an assisted living facility.
Check out our socials!
Resources
5 Ways Caregiving Routines Make Daily Life Easier
12 Morning and Evening Routines That Will Set Up Each Day for Success
The Benefits of Setting a Daily Routine for Seniors
How to Start a New Routine and Stick to It