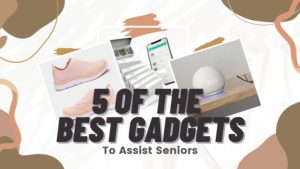 As we age, certain things that were once easy to do or remember become harder. We find we aren't able to remember if we took our medication, we aren't sure about the date, or we simply can't reach our shoes to tie them anymore. Thankfully, today's technology has created a lot of amazing tools that we can use to help us as we age to maintain a high quality of life, even though things may be changing. Many of these tools are also available from various retailers and at a reasonable cost! Today's blog is focused on 5 gadgets that can easily assist our elderly in their day-to-day lives. While not all of these items may be applicable to you or your circumstance we hope that you find this list useful!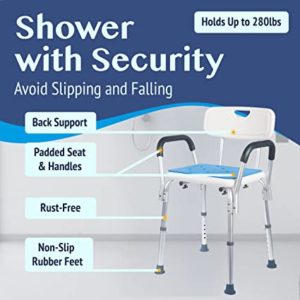 To begin, something that is useful for every aging senior is the Medokare Shower Chair! Honestly, these are great for everyone, but especially the elderly. It can get harder to be on your feet all day for work or volunteering or even being out and about, and then have to continue to stand in the shower when you just want to relax. There are a lot of different models of shower stools, but the one we like is the one with a back to it and arms. It really allows for more stability in the shower and ensures that you're not leaning against the slippery wall for stability. The arms also help when you're transitioning from sitting to standing back up to get out of the shower. While a bit more of a pricey item at around $70 apiece, they are very sturdy and the one on Amazon has very high reviews!
Tinylogics Memo Box
Our next item is the Tinylogics Memo Box. While there are a lot of different pillboxes on the market, some you can easily get at Walmart or Amazon, there are a lot of great benefits to getting a pillbox like Tinylogics Memo box. This pillbox is great for seniors as it reminds them to take medication both visually on each pillbox as well as on the app. The pillbox blinks and beeps when it's time to take medication and the app can remind you to take medication, warn you about a potential double dose, and even let you know if you've left home without your medication. The time to take your medication can also be adjusted as needed, so each pill can be taken at a different time if they need to be spread apart. There are various options for you with Tinylogics and you can get a pillbox for just one day or have a box for every day of the week! The 7-day pack featured is about $200, but the mini one-day box is only about $40!
Our third gadget is the Tile Sticker. If you've ever heard of Tile, you're probably initially thinking of those little white squares that you put on your key ring or on your purse to help you keep track of items that you find yourself often misplacing. The Tile Sticker uses that same technology but it's smaller and is a sticker, so instead of having to slip it on something, you attach it to your item and go! It's small enough to go on phones, remotes, glasses cases, and more. They have a range of 250 ft, are water-resistant, and can be connected to voice-activated tools like Alexa. The app is free to use to track your item and is compatible with most devices! This device is very helpful for our elderly as it can help keep track of essential items that we may have misplaced! The best part about this gadget is that a single Tile Sticker is only $30!
The next gadget we want to spotlight is the Friendly Shoes! Specifically the Friendly Force shoes! Friendly Shoes focuses on easy-to-put-on shoes that help not only the elderly but anyone who has trouble finding shoes that fit comfortably! The Friendly Force shoe line utilizes Friendly Shoes' patented Easy Access technology to create larger openings to slip feet into! They are also the roomiest shoe that Friendly Shoes has. This shoe is non-slip, lightweight, and absorbs shock with its memory foam footbed. Since the sole of the shoe is removable, these shoes are also great if you have a customized orthotic for arthritis or other reasons. The Friendly Force line comes in black for men or peach and grey for women. These shoes cost about $80 a pair which is very comparable to the best shoes for the elderly that you would find on Amazon.
Our last, but certainly not least, product that we want to talk about today is the Amazon Alexa Echo Dot, specifically the 4th generation. The 4th generation is great specifically for the elderly who may have trouble remembering time as it displays the time on the Echo Dot. The 4th generation is perfect for the elderly for many other reasons as well and here is a list of just a couple of things the Amazon Alexa Echo Dot can do:
Start Routines with your motion – Turn on compatible lights, or even turn on the coffee maker when you walk into the room.

Control your smart home – Use your voice to turn on lights, adjust thermostats, and lock doors with compatible devices.

Connect with others hands-free – Call friends and family who have the Alexa app or an Echo device.
Ask Alexa for basic information – Utilize voice chat to ask Alexa basic questions such as time, date, and weather information.
You can also play music, create alarms, or add to grocery lists.
If you have a Ring doorbell or home security system it can also be integrated with those systems to get that information.
AI devices can be very beneficial to our elderly to help with daily reminders and basic routine help. You can also get multiple throughout the house to connect to different areas. So it's perfect if you have an older loved one living with you who may need to reach you from other rooms. This specific model has various designs, such as Twilight Blue, Charcoal, Tiger, and other Limited Edition designs. Depending on the design you choose, this device ranges from $50-$60 dollars.
There are so many other amazing devices that can help us as we age and help our loved ones to have a higher quality of life as they don't have to worry about trivial things as much! This blog featured some of our favorites, but don't forget to check out our resources below for some links to some other amazing devices!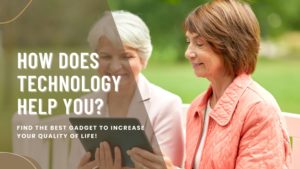 Check out our socials!
Resources
https://www.aplaceformom.com/caregiver-resources/articles/cutting-edge-products-for-seniors
https://www.seniorsmatter.com/affiliate/10-modern-and-helpful-tech-gadgets-for-seniors/