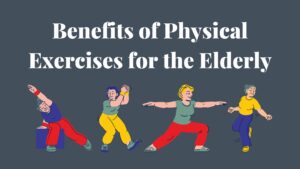 It's essential that we ensure that our older loved ones don't become sedentary as they age. Not only does it have increased physical health benefits, but it also helps ensure a longer and more joyful life. Physical exercise also helps ensure that the elderly are more independent. Regular exercise can help with improving balance, in fact, studies show that regular exercise reduces the likelihood of falling by 23%. Exercise can also prevent disease, improve energy levels, and lastly a recent study has shown that exercise can reduce the risk of developing Alzheimer's disease or dementia by nearly 50%. With all these benefits it's important to get started on regular exercise.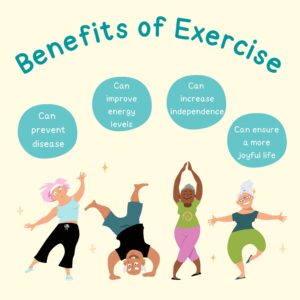 Just like everyone, it's important to not push yourself too hard and end up hurting yourself. The first exercise to take a look at would be water aerobics. Water aerobics could include leg lifts, arm curls, or flutter kicks. You could take a class or look up some water aerobics videos on YouTube. Exercising in water can be a great exercise for those who have painful joints and provides natural resistance without weights. Regular swimming or playing water games would also be a great alternative to water aerobics.
Another fantastic option for easier exercise is yoga. While there are more difficult exercises within yoga, there are some beginner exercises that would be helpful in increasing mobility and flexibility. Chair yoga is a great alternative that helps prevent stress on joints and muscles. This could include overhead stretch, seated twist, or seated mountain pose. If you are able to do yoga without the chair, some easy exercises could be, side bends, cat pose, or warrior I pose.
Walking or jogging is another great form of exercise. This can be done with a significant other, family members, or a friend group. There are many walking groups in elderly communities and homes. This is a great form of exercise as it's one of the least stressful forms of exercise and it's very accessible. It can also be an opportunity to get outside for a bit. Walking around the outside of a building, going on a trail walk, or training to walk a walk-friendly race is a great way to get steps in. This can also be a moment to enjoy some music or an audiobook.
While there are a lot of great exercises beyond these few, it's also important to note that there are some exercises that the elderly should avoid. Among these are the deadlift, the bench press, rock climbing, high-intensity interval training, or long-distance running. These exercises can put an unhealthy amount of strain on muscles or cause issues with balance.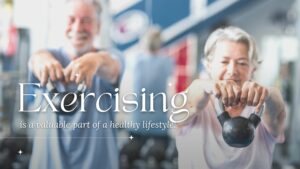 Exercising is a valuable part of a healthy lifestyle. If you are struggling with pain after exercising, please reach out to your physician and see if there are better exercises for you. There are also a variety of other exercises available that are easy and not too intense on your body. You can also work with a personal trainer at a local gym to find the best workouts for you.
Check out our socials!
Resources