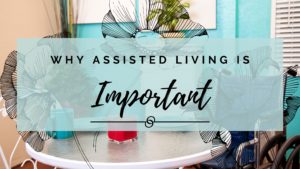 Assisted living facilities are all too often overlooked as being cold and unfeeling places where we send the elderly to fade away. But in reality, assisted living facilities are run by loving certified nursing assistants and administrators who know how to intimately care for loved ones in ways that make others uncomfortable. Assisted living facilities have a couple of other benefits that we're going to discuss today!
Safety
A difficulty for a lot of family members is worry about a loved one getting hurt. One of the greatest benefits of assisted living facilities is the active minimization of fall risks. Many assisted living facilities are single-floor buildings, most avoid rugs of any kind, ramps in entrances, handrails in bathrooms, raised toilets, and specially designed walk-in showers. They also ensure medication is taken on time and in the right dosage so that repeated doses or forgotten doses don't happen when life gets you busy. If the assisted living facility you are interested in offers memory care, there are also often fenced-in yards and secure entrances and exits.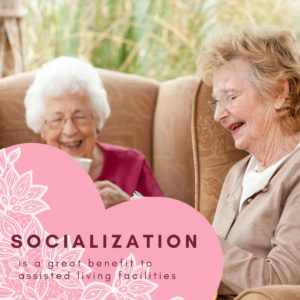 Socialization
At-home care is a great option for those who are still active and involved with friends and family. However, some elderly struggle as they face old friends and family pass away and less mobile bodies. Assisted living facilities offer socialization at dinners, activity nights, and just on a daily basis. They also often have opportunities for the family to come and celebrate things like birthdays, or take them out of the facility for a day or two for holidays.
Hygiene Care
There's a running gag among a lot of family members that when their parents get older they don't want to change their diapers. Now while this may never be a problem for your elderly loved one, this can be a serious problem for some elderly. It's understandable that some children don't want to face that situation when it comes to their parents or grandparents. Hygiene care also usually includes ensuring that teeth or dentures are cared for, showers are taken, and clothes are washed. These tasks can be extra difficult when it comes to children caring for parents while having children in the home still.
Healthy Meals
Many assisted living facilities have CNA's that cook for them, but some do have chefs that cook for them. Lots of facilities also have themed nights where restaurants come in and cater food for their residents. Most assisted living facilities also offer dietary restriction meals for their residents. Dietary restriction meals are often one of the hardest things for non-certified carers to do, so assisted living facilities are a great option if that is necessary.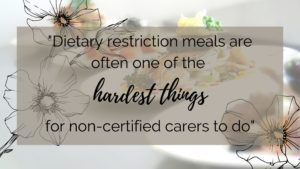 Various Activities and Stimulation
When a loved one is placed in an assisted living facility, there are various concerns about what they're going to do all day. Loved ones are concerned about boredom and the inability to do things that they love. Fortunately, facilities have a variety of activities for residents to do. This includes movie nights, art classes, exercise classes, book clubs, gardens, game nights, and so much more. Some facilities also have transportation that can take them to stores and other classes outside of the facility.
Overall, assisted living facilities are critical for families in need of places for loved ones when the care the loved one needs is more complicated than what they can provide at home. These facilities are also so important for the preservation of dignity as loved ones age. Assisted living doesn't need to be something to fear or hate, it can be a great place to live as you age.
Resources
https://www.aplaceformom.com/caregiver-resources/articles/assisted-living-benefits
https://www.umh.org/assisted-independent-living-blog/5-reasons-to-choose-assisted-living