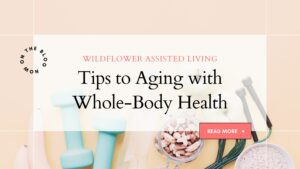 As we age we become more susceptible to a variety of diseases and health problems. It's important that you know your health and the risks that you may specifically have. While conversing with your doctor is definitely the first thing you should do, and you should do it regularly, there are other health tips that you can utilize. Healthy aging is also not just confined to your physical health but includes your social and mental health. As we age, we must look at all facets of health and what we need to do to improve our health and age well.
The first thing to address is visiting your doctor. This should include regular checkups, with "regular" ranging depending on your needs, but at least annually. Visiting your doctor also includes going in for screenings. Getting screened for things like cancer, Alzheimer's, diabetes, etc. is important as screening can catch issues early before they become severe problems. This also includes going to dentists, eye doctors, and other specialists to keep all parts of your body healthy. Staying physically healthy can improve your quality of life. If you are having any issues with getting to doctor appointments, see if there's any way for a doctor to have a virtual visit or come visit you at home. There are also many outreach programs that help seniors get to their appointments and many senior facilities can assist as well.
When discussing doctor's care, it is important to mention taking medication. As we age, parts of our bodies may not be as strong or functioning as well as they once were. With the evolution of modern medicine, there are many medications that can help assist in keeping our bodies and minds healthy and strong. If your doctor has prescribed medication, make sure you are taking it at the proper times. If you need help with ensuring you take it, there are alarms you can put on your phone, reminders, daily pill cases, and sometimes partners, friends or nurses can help us ensure we take our medication.
Along with visiting your doctor and taking medication, it's also important to eat well and stay hydrated. With many diseases, it can become hard to tell if you're hungry, if you're overeating, or if you have forgotten to eat. Many medications also require us to eat when we take them and they can hurt if we don't have food in our stomach. Hydration is also important as it helps our organs and skin perform their function. Try carrying a water bottle around with you, cut back on sugary drinks that fool you into thinking you are full and not thirsty, and monitor your electrolyte intake. If you are especially active or outside often, dehydration can cause even more problems physically. Try tracking your food and water every day to make sure that you build healthy habits that will follow you as you age.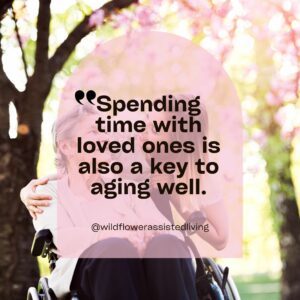 Spending time with loved ones is also a key to aging well. Humans are social creatures and don't do well with being alone. If you don't have strong relationships of various kinds, aging can be difficult and lonely. It's important to have a variety of people to talk to and confide in about various parts of your life. They can help you cope with various parts of aging. If you are concerned about the lack of social groups and social interaction in your life, try joining a club, going to senior citizen activities, or even posting on social media (there are a lot of positive social groups on social media you can be a part of).
It's also encouraged to try therapy. Therapy can help you feel confident in adjusting to new phases of your life. Therapy is also great for helping you overcome difficult choices and different stages of life. Therapy can also help you not feel alone when things get hard. There are various kinds of therapy and therapists available and you may not connect with your first therapist and you can change to find one that helps you. It's important to have someone to talk to about hard things that can provide you with possible coping skills, so if you need help, definitely try therapy.
Lastly, make sure to take the time to do the things you enjoy. Making time for yourself is crucial to your mental well-being. This can be a variety of things. But try taking a walk outside, playing a game with a friend, taking a bath, doing your skincare routine, or reading a book with a candle burning. Do something small each day that helps you appreciate your life and enjoy your life. This can drastically improve your mental health and can even help boost your energy for better social or physical health.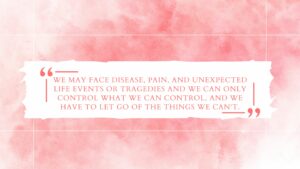 Overall, aging well is an umbrella term for a variety of tips to improve your quality of life as you age. Our life may not always be what we want. We may face disease, pain, and unexpected life events or tragedies and we can only control what we can control, and we have to let go of the things we can't. So start today to try new things to change your life for the better and make aging fun and happy.
Check out our socials!
References
https://www.nia.nih.gov/health/healthy-aging-tips-older-adults-in-your-life#:~:text=Encourage%20healthy%20eating&text=A%20nutritious%20diet%20involving%20a,%2C%20stroke%2C%20and%20some%20cancers.